Malay Wedding Videography
Today I'll be writing about a 2 day Malay Wedding in Singapore and the itinerary a couple used for their wedding day.
This will be explained in the eyes of a malay wedding videographer.
It's not going to be a generic blog post about the love story of a couple. 
Instead, what you are about to read is an in-depth case study of the events happening such as akad nikah, sanding, and hadang.
I will include tips along the way in this post and how you can organize a similar event using this itinerary.
It's also a good time to understand more about malay wedding videography in Singapore.
Sounds good? Ok, leggo!
This chapter is quite important.
Why?
If you're serious about getting awesome footage or pictures from your wedding videographer, you will want to continue reading the tips that I will be providing.
First, I'll share with you the importance of preparations which you need to do prior to your makeup session.
Secondly, I'll include info about the working relationship between the photographer, wedding videographer and Mak Andam during the makeup session.
If you're ready, jomz.   
Preparation
The makeup session will usually take place in the bride's bedroom and this is a common practice for most malay weddings.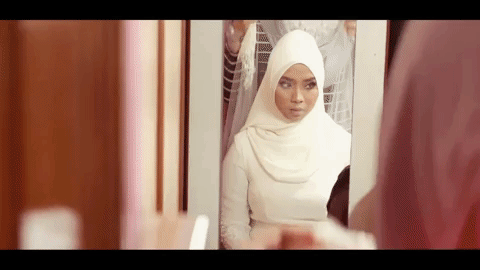 It's the most cost effective, practical and less effort.
Of course, if your wedding venue is a community center or a hotel, you will need to make
sure that you bring everything that is needed with you.
But for this chapter, I will be sharing about the events that have unfolded during Erma and Iz's wedding.
Wedding Photographer, Wedding Videographer, Mak Andam
The way it works around the room is very tricky.
First of all, imagine 4 people stuck in a small room, and 3 of them are trying their best to create the best piece of art.
In addition, the pengantin is busy thinking about what to do in this most important day of her life!
As a result, you can imagine the nerves that can silently brew in conditions like these.
I'm glad to say that most of the time, my experiences had been great.
There was only once when a makeup artist requested for us to step out of the room, and after finishing, left the place quickly without informing us that she was done with the makeup.
Hence, I almost lost the precious opportunity to take videos of the process of the makeup session.
Of course, at the same time, it is the responsibility of the photographer and wedding videographer to work stealthily.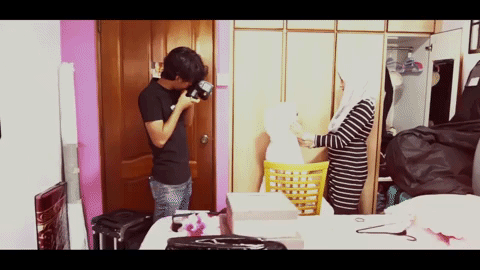 Dyn from
Naf Images
and Eza were very professional, 
and we made 
sure that we did not
step on each other's toes.
We took turns to take our shots and do our thing.
Dyn has some fantastic images on his Instagram, and you should definitely consider him if you are looking for a Singapore wedding photographer.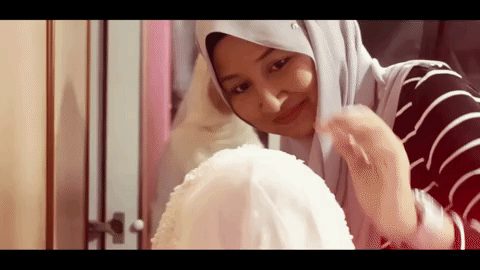 She arrived around noon and began her magic on the bride.
She is awesome, and you should definitely check out her work if you are looking for a makeup artist or mak andam.
Usually the bride will be 90% ready before the photographer and wedding videographer steps in the room.
I probably had spent around 30 mins inside, before packing up.
Tips On Preparation
Where possible, position your mirror/dressing table nearer to a window.
As this allow lots of light to shine through, and make the photos and videos look better.

Having said that, don't place it directly beside a window.
You will need to have ample space to allow the photographer and videographer to stand by the window.
It's also to avoid disrupting the makeup artist.
Again, this is not a hard and fast rule.
Most bedrooms are already crammed the way it is, so these are just helpful suggestions.
For a two day Malay wedding in Singapore, the nikah ceremony is held separately.
This is to allow guests who may not be able to attend the wedding on the actual day, to come on the 2nd day.
Or it's for couples who prefer to not have too many things going on, on one day.
In fact, I've seen nikah being held on a Thursday, and sanding being held on a Saturday for malay weddings in Singapore.
Leaving the Friday in between for any last minute arrangements that needs to be completed.
Most of the time, nikah is only a 2 hour affair, and the ceremony itself should be around 30 minutes.
For this particular event by Erma and Izdihar, it was held on a Saturday evening from 3pm to 5pm.  
Event Venue
The wedding venue for this event was held at a void deck, with a huge canvas tent outside the block, for the pelamin.
If you are looking for ideas for a malay wedding venue in Singapore, this is something to be considered.
It allow lots of light to come through and is almost like an outdoor concept.
Arrival of the Bride
The bride left home close to 2.15pm, as the venue was held a few blocks away from her home.
Kadi was scheduled to begin the ceremony at 3pm.
This gave ample time for the bride to settle down on the pelamin and take photos.
Can nikah be done at home?
Absolutely.
That arrangement is best if you are organizing your nikah a few days before sanding.
In this case, the decor and setup had already been done at the wedding venue.

Preparing Welcome Speeches
Relatives arrived earlier, even before the bride herself.
The couple had arranged for representatives from both sides of the family to prepare greetings to address those who were present.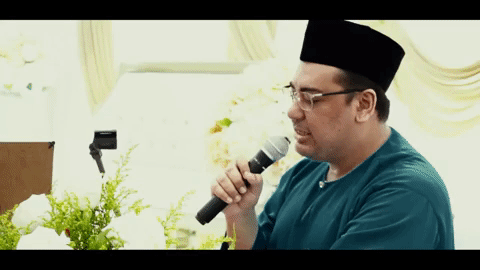 Personally I felt it was a nice touch that it was delivered in formal Malay.
The representative, Ghafur, had prepared things to say and had it written it on a piece of paper.
If I remember correctly, it was at least a total of 15 minutes before the Kadi actually arrived.
Hence to make it less awkward, preparations can be made in advanced to avoid moments spent in silence.
Of course, you will always have the backing of a deejay, and a good wedding deejay would have prepared himself for time fillers like this one.
This is also the time when things like the exchange of hantaran (wedding gifts) can be done.
The groom, Izdihar, arrived a few minutes later.
This allows him some time to greet family members and guests.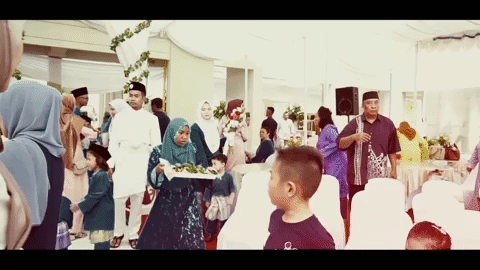 The kadi arrived right on time, and is joined at the table by witnesses from both sides of the family.
I'll advice again, make sure you have your IC ready by this time!
The Kadi then immediately begins the ceremony by introducing himself and saying a few prayers.
The time he spends is short, and this is the part where he will excuse himself, to walk over to the bride, and ask if she has consented to this wedding or not.
And also to sign the ROM papers. She was seated together with her mother at this point.
This whole process lasted less than 2 minutes.
The bride continues to sit at the pelamin and observe the whole ceremony.
After that, the kadi walks back to the table where the witnesses, groom and the father of the pengantin perempuan (bride).
The kadi then continues with the khutbah nikah for another 10 to 15 minutes or so.
Akad Nikah (Muslim / Malay Wedding Solemnization)
After completing the khutbah, the kadi, the father of the bride and groom prepares for the akad nikah, or solemnization.
For this particular ceremony, the father of the bride will be known as the Wali, the person giving away the bride.
In the absence of the father, the kadi will take place, and will take the role of Wali Hakim.
The three main parties involved rehearses the solemnization and to ensure that it is heard clearly by the witnesses sitting around.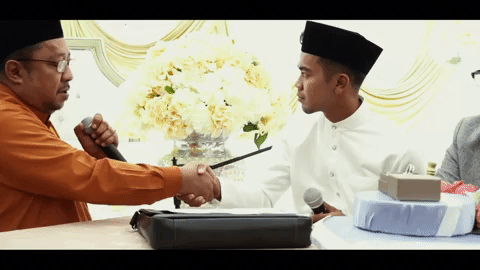 After the acceptance of the nikah by the groom, the Kadi will make sure the witnesses have 
heard the it loud and clear.
Subsequently, a few more minutes of prayers ensues.
The groom then takes this opportunity to salam his parents and close relatives who are around. 
He then proceeds to the dais for the ring exchange.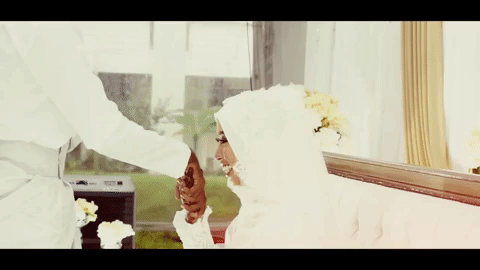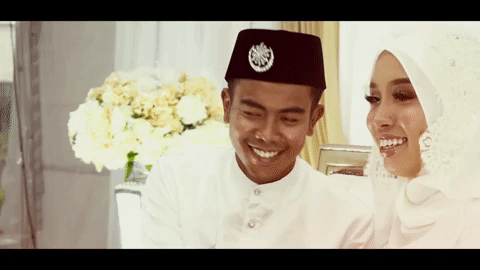 The groom will always be seated on the right and the bride, on the left.
The exchange of rings are usually performed while seated at the dais.
Under the direction of the photographer, the groom puts the gold bangle around the bride's wrist.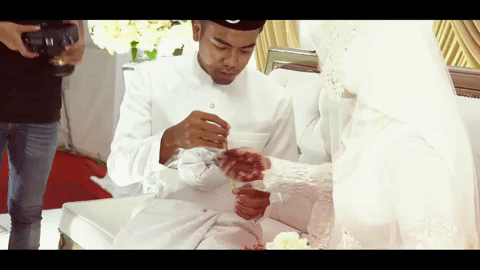 The 
bride then exchanges by slipping a ring onto the groom's finger.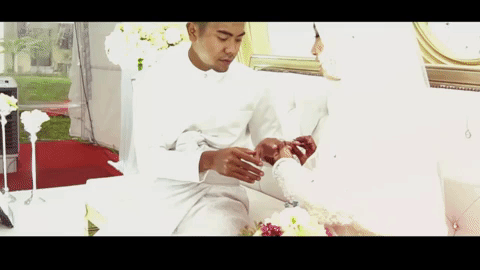 I'll probably need to take a moment to explain this significance in muslim / malay weddings in Singapore.
The standard mas kawin given is usually $100 and the practice was to present it in the form of dollar notes folded extravagantly.
It will then be either framed or adorned as part of a decorative ornament or flowers.
These days, I've seen people use cheques that they have requested from banks, and have it framed.
Seems like a quite a practical solution.
Some will prefer to use a pair of rings, or a bracelet, or necklace.
Again, there are no hard and fast rules.
In this case, Erma receives the gold bangle and Izdihar gets the ring.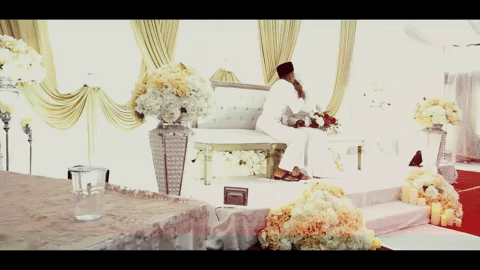 TIPS
– Arrange for family representatives to prepare any welcome speech
– Get your IC ready in your pocket at all times until you reach the table
– Practice, practice practice ! 🙂
The sanding is held on the 2nd day for a 2 day malay wedding.
It usually kicks off between 11 to 12 noon, and for this case, the bride arrives at 11am.
This is probably the most exciting part of any malay wedding in Singapore.
Almost all the wedding vendors are participating at the same time and every relative from the bride's side summoned to help defend their fort.
This is also where everything will be a blur for the bride and groom.
I'll share with you the rundown of what happened at Erma's and Izdihar's sanding event.
Keep on (sc)rolling…
Since I had already captured footage of the bride getting ready,
I didn't need to do so for a second time.
Usually, in this scenario, a two man malay wedding videography team will be suitable.
The deputy wedding videographer can actually be at the groom's place to take shots of the groom preparing.
The primary wedding videographer will need to reach the event early to setup at the venue.
Since the event was due to start at 11am, I arrived at 1015am.
Catering
This is an often overlooked part of a malay wedding in Singapore.
Most couples easily spend more than $10,000 for their catering, and it is a shame not to have their wedding videography team cover more of this.
Of course, every Singapore wedding videographer has their style, and adding footage of catering may not be in line with their video story line.
Personally, having paid $14 per head for my own wedding and not even remembering what I ate, I felt compelled to include lots of footage of the catering for the couple.
* I do have to add that the catering company, Hajjah Amnah Catering Services, is related to the couple, and the father of the bride had kindly requested for me to take some shots of the food.
I was given ample time to set up, and do my own thing for most part of the wedding.
Hajjah Amnah's variety of food was something that blew my mind.
I will let this gif speak for itself.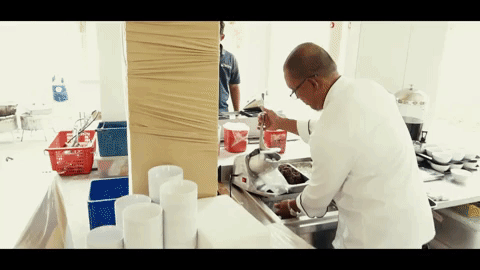 TIPS
– Communicate with your wedding videographer beforehand.
– Allow ample time for the videographer to set up before the bride's arrival.
Deejay
The deejay was part of the team provided by Hajjah Amnah Catering Services team.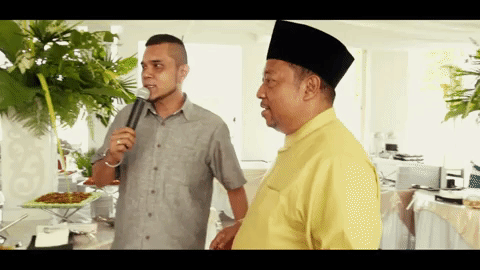 He takes time working the crowd, keeping the atmosphere alive with witty jokes, and interacting with the audience.
The deejay is probably the single most important person who dictates the pace of the wedding.
He can help cut a segment short if you are running behind time (upon the advice of bridesmaids) or simply keep the crowd entertained.
Invest in a good deejay, I say.
The wedding videographer communicates closely with the deejay, to ensure everything goes smoothly.
Arrival of Bride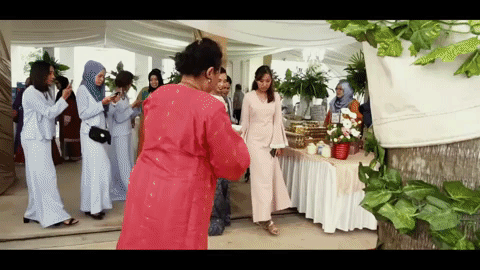 Once the bride arrives, she sits at the pelamin with the Mak Andam.
Tthis presents opportunities to take photos and videos with bridesmaids and close relatives.
The videographer and photographer are always around the pelamin at this time, with their eyes and ears open to wait for the arrival of the groom.
Again, this is when having a deputy videographer is beneficial.
He can wait at the carpark, to capture footage of the car coming in.
There are times when the amount of people taking photos at the pelamin was so large, that I was only notified that the groom had arrived when I heard the sound of the kompang making their way to the pelamin.
However, it was a bonus that the carpark can be easily seen from the pelamin.
Once I saw the groom's car coming in, I made my way to where the rest of the kompang team were already standing by.
The deejay will be anticipating the arrival of the groom as well, and here, Abang deejay yang awesome, was well prepared.
TIPS
– Consider hiring 2nd wedding videographer.
– Communication with both parties must be constant.
Arrival of Groom and Kompang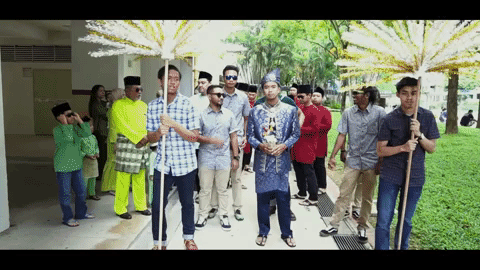 Once the groom arrives, they take a minute or so to assemble together with the Kompang team.
The march then begins.
Hadangan
For a typical event, hadangan (or gatecrash, in Chinese wedding terms), is where your relatives will form barricades along the path where the groom and his entourage will pass through.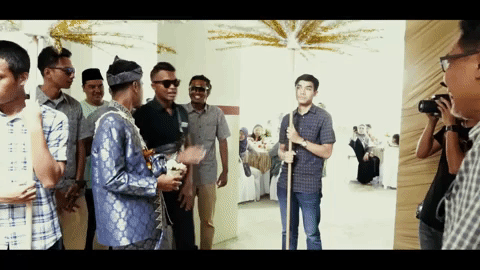 There are usually 2 or 3 barriers set up.
And they're also otherwise known as ERPs (hehe).
There is nothing much that can be planned for this one.
Most of the time, the relatives already know what to do and no amount of planning will do any good.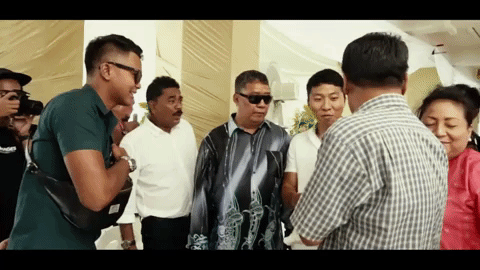 It was quite easy for me to find spots to get good shots.
One thing that you might want to take note, is for the kompang team to lower down their singing.
This allows the conversation between your relatives at the ERP and the groom to be heard loud enough.
The groom and groomsmen were required to say out pantun, or pickup lines in the next gantry.
One of them whips out a phone and starts googling for relevant answers.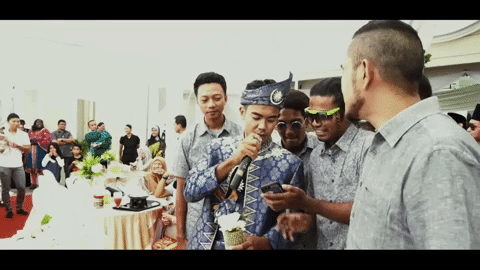 Champion.
After going through all the ERPs, the last one is the Mak Andam "gantry".
Most of the time, the duit salam, or fee to give the Mak Andam is already discussed beforehand.
So don't even think about putting in any coins inside the sampul.
You will never get to see your bride's face.
TIPS
– Check with Kompang team about the coordination.
– Groom and groomsmen can prepare and anticipate for questions or dance moves to make the event more livelier.
Sometimes you know it's just inevitable 🙂
– Prepare duit salam for Mak Andam, and/or the ERP gantry team. (Depends on what has been discussed beforehand).
Silat & Kompang Performance
At this point, there is nothing else to do except sit and watch the performance by the Kompang team. Enjoy this moment.
The feeling is really awesome.
You will really understand the true meaning of the words "Raja dan Permaisuri sehari".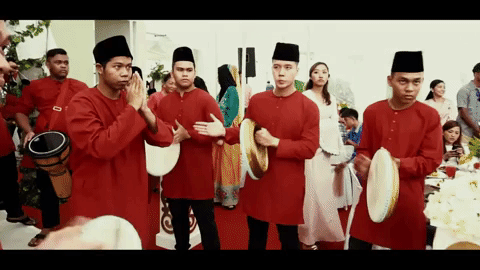 Photo taking
Right after the Kompang performance, it is tradition to have the parents of the bride and groom to come forward to the pelamin to pose for pictures.
This is usually done seperately and it depends on who is available first.
Parents will be busy greeting guests and welcoming them, so don't forget to spare a thought for your lovely parents.
They will be shuttling back and forth from the reception area to the pelamin to pose for photos!
The deejay will usually take care of this part by calling out to parents of the pengantin.
Usually, the parents will be seated while the couple stands at the side or behind.
After photo taking, they will proceed to salam mum and dad.
It is best to do this individually, to ensure that photographer and videographer are given ample time to capture the raw, sincere moments of this special act.
After that, parents of the groom take their turn (this depends on who takes the photo first).
The next half hour is common practice for a malay wedding in Singapore and one that you should all already know- the photo taking session.

The direct family members first, followed by cousins, and friends.
There are times when a queue will form, of people eager to take photos with the couple.
This is normal so just remember to keep that smile constant!
The deejay keeps his eye open for big groups, which allows him to rally the group and asks them to give a co-ordinated "Selamat Pengantin Baru!" to the camera.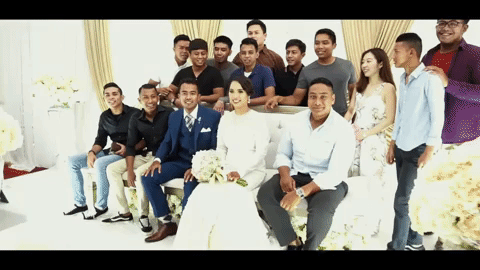 TIPS
– Salam parents individually.
– Just follow orders.
Misc Performances
Sometimes couples arrange special one off performances to fit into their itinerary.
This can be in between the photo taking.
Remember, the more segments you have in your itinerary, the more chances of unforseen circumstances can happen.
This can then snowball and delay everything else.
For this case, the couple did not arrange for any additional performances.
Eat!
After all the phototaking, which should take roughly 30 minutes or so, it is now the bride and groom's turn.
You may occasionally get a guest or two who wants to take photos at the dining table.
Just a heads up.
This segment is the last leg of the race!
It's time to ensure that you have enough time for your outdoor shoot and salam everyone before that.
In this last chapter, I will go through some quick and easy
tips on how you can easily accomplish this, using examples from Erma and Izdihar's event.  
2nd Outfit Change
Probably don't need to tell you again that the videographer doesn't need to follow the bride and groom for the outfit change.
One footage of getting ready and make up should suffice for videography edits.
The men behind the lenses use this time to check their camera batteries, and pack their equipment, and be ready to move off right after the final photo taking segment.
This is also an excellent time for videographers to go around and find close friends or bridesmaid/ bestman to interview.
Again, not all malay wedding videographers will do this, and it depends on their style.
Interviews
One tip that I can give is to include the contact numbers of lead bridesmaids or lead groomsmen in the itinerary.
This makes contacting each other much easier.
You don't need to inform your best man or bridesmaid that they are going to be interviewed.
It will make the jitters worse, so leave it to us to settle it for you 🙂
There's a bit of research done prior to interviews.
Since I knew the couple were childhood sweethearts and the bridesmaid was a friend from secondary school, I was able to naturally ask relevant questions that will generate 
better responses.
I've worked alot with people in the corporate world and conducting interviews so I can say that this is important in order to string together a nice story.
2nd March In
Bride and groom marching in.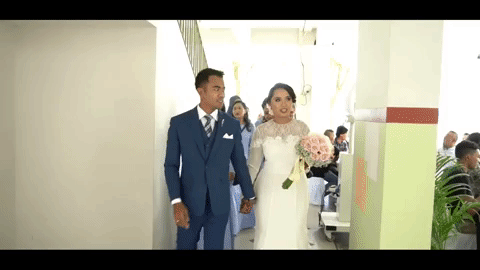 Their bridesmaid and groomsmen stops at the start of the red carpet to allow the couple to walk on their own to the pelamin.
Speech
Right before they walk in, I asked Izdihar and Erma if they had prepared a speech.
They did not, so I told them that it's best not to attempt to make any inpromptu speeches.
At this part, you should anticipate that someone might just shove a microphone at your face and ask you to say a few words.
For someone who is terrified at public speaking (including me!), I personally think it's a bad, bad idea.
If you are not comfortable with addressing a crowd, make sure you inform your deejay and your orang-orang kuat beforehand.
However, if you have prepared a speech on a piece of paper, that will be the smartest thing you can ever do.
It's so much easier reading off a piece of paper that thinking of what to say right at the top of your head.
Here, the deejay was professional enough to ask the couple questions, instead of just asking the couple to give a speech.

Hats off to you Abang Deejay, very smooth.
Cake Cutting Ceremony
The cake is usually set up when the couple is changing into their second outfit.
Unfortunately, I did not get the name of the cake decorator.
However, what I wish I had done better, was to gather all the bridesmaids and groomsmen to stand with the couple on stage.
I've seen a footage of another videographer doing that, and as a result, the way it looks on camera is really amazing.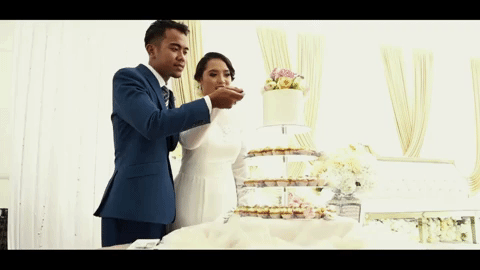 Tips
– Brief your bridesmaids and groomsmen to stand behind you when you are cutting the
cake.
This is a personal suggestion.
Furthermore, it actually feels less awkward if you have your close friends standing beside or behind you.
– Party poppers can be really interesting for this segment as well.
Salam Salam
It was probably at around 5pm when the couple decided to cut the phototaking, and begin the long goodbyes and thank yous.

Remember, this will take at least 20 minutes minimum, to go around and greet as much people as possible.
There will be requests for phototaking as well, so just take note.
The couple also stopped by their photo booth to pose for a few photos with their friends before making their way to the car.
TIPS
– Set aside ample time for salam salam.
Outdoor Shoot
Erma and Izdihar had planned their outdoor wedding shoot at their old alma matter, the place where they first met.
I thought this was a fantastic idea, especially for their video, which allows a bit more in depth story telling.
Some wedding videographers and photographers (including me) do not have our own personal transport.
You may want to arrange a space for them to tompang in one of the groom's cars.
This is actually a good idea, as it allows your wedding videographer to build rapport with the groomsmen before the outdoor photoshoot.
Sometimes it can result in some good footage, which I manage to capture in one of the videos that I created previously.
By this time, you must keep in mind that your bridesmaids' and groomsmen's energy are at an all time low.
Try to plan your shoot carefully, not just based on how nice you think the place looks.
Furthermore, the golden hour (sunset) timing passes by very fast, especially in Singapore.
By 630pm, it can be quite dark in some areas.
There was once when I did a malay wedding shoot at 730pm, and the photographer had to use several flash lighting for the photoshoot.
As a result, it can sometimes look not so natural.
Don't even mention about the videographer.
The lighting we use is different, so you might end up looking like you are being interviewed live on the 8pm daily news.
However, do rest assure.
I know how important a wedding can be.
I've gone through it myself.
I'm sure I'm speaking for every single Creator out there, that we WILL do our utmost to create the best pictures and videos for you 🙂
TIPS
– Try to choose an outdoor location with significance to your story.
– Since it's the weekend, choose a spot without too many people.
– Try to arrange for transportation for videographer if possible.
– Choose a spot with ample parking space.
Ok guys.
In conclusion, that's the entire run down of a Malay Wedding in Singapore.
Hope it was helpful.
Most of all, I want to know the golden question:
What will your wedding itinerary look like?
Or perhaps you have lots of questions after reading this in-depth guide.
Let me know by leaving a comment below.
Or you can read up more about me, or check our availability here.
Salams.